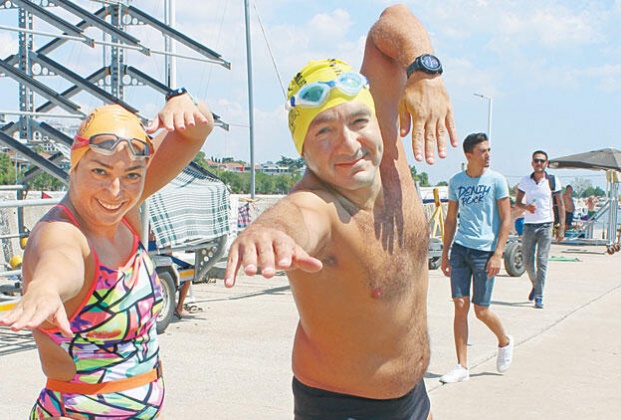 Two Turks, One Scottish and One Iranian will swim for ÇYDD (Association for the Support of Contemporary Life)
Two Turkish, a Scottish and an Iranian are going to swim across the English Channel next month. Emre Deliveli, Deniz Kayadelen, Darren Watson and Raha Akhavan will be collecting donations for ÇYDD before beginning their formidable effort to swim for perhaps 38 kilometers. Their objective is to provide scholarships for 500 students. We met with Emre Deliveli and Iranian Raha Akhavan and the ÇYDD managers at Caddebostan seashore to observe their training.
The number of people who swam The Channel between England and France is much less than those who have climbed the so called summit of the world, Mount Everest. To last for 16 hours in the cold waters and the currents of this sea requires endurance and a good training. Swimmers Emre Deliveli, Deniz Kavadelen, Darren Watson and Raha Akhavan have formed the group 'Out of Our Confortzone' and they are getting ready to have their names added to the list of those who have successfully crossed the Channel.
Fitness is Very Important
Deliveli, who became a professional swimmer two years ago, told us that two things that are important for open sea swimming are endurance and fitness. After he started to swim, he realized that he could swim for long hours. He enjoyed challenging his own limit each time. Kayadelen is a professional swimmer who has earned numerous medals. He lives in Frankfurt. The two started their open sea swimming when they swam from the Island of Simi in Greece to Datça in Turkey in 2018. They later met Raha Akhavan, a researcher at Sabancı University and Darren Watson who lives in Scotland.
They Started a Donation Campaign
The foursome that started a swimming group was training hard to accomplish their dream of crossing the Channel. Experienced trainers Kamil Resa Alsaran and Fatih İşçener were working closely with the swimmers on their technique and fitness. During this time they happened to get together with ÇYDD and they decided to start a donation campaign for their chosen course. They are asking for donations before August 22-28 when they plan to realize their goal. ÇYDD Sports Coordinator Serpil Çakmak Karan explained that, "this year ÇYDD celebrated their 30th anniversary and that in the past few years more sports related work has been done. There is now a ÇYDD Sports Unit. The Channel project will be a first for ÇYDD. 500 students will receive scholarships and they will be made more aware of the importance of sports activities. The 'Out of Our Comfortzone' will provide a role model for the students." Karan said that they will use the donations for the 'Bir Işık da Siz Yakın-You Can Light a Light' university scholarships project.
CLICK TO DONATE USING A CREDIT CARD
Yapı Kredi Etiler Özel Hesap Bankacılık Merkezi; Şube No: 915
Account name: Çağdaş Yaşamı Destekleme Derneği
TRY IBAN: TR13 0006 7010 0000 0053 6834 47
USD IBAN: TR86 0006 7010 0000 0057 9895 15
EUR IBAN: TR60 0006 7010 0000 0057 9710 68
GBP IBAN: TR25 0006 7010 0000 0058 0267 94
You can indicate as 'memo': CHANNEL SWIM
The First Iranian Woman to Swim the Channel
Raha Akhavan started to swim during her years as a university student in Teheran. Here is how she explains her adventurous swimming: "I was swimming in Iran semi-professionally. When I came to Turkey I started to think about how I could improve myself as a swimmer. I first started swimming long distances in the Bosphorus. I was very lucky to meet Turkish swimmers and I'm very grateful to teachers Kamil and Fatih. I worked on developing my endurance and swim periods. I started getting ready for the Channel crossing. We establish weekly goals and work in the pool and the sea. I swim for 4-5 days a week and 40-50 km. monthly. If I succeed I'll be the first Iranian woman to swim the Channel."
Nonstop Strokes for 16 Hours
According to plan, first Emre Deliveli will try to cross the Channel solo. After one day the foursome will try to swim the difficult course. Deliveli explains the course: "The shortest distance of the Channel is 34 km. The water is very cold. 16 degrees C. Although not deathly, there are jellyfish that disrupt swimming and redden the swimmer's skin. The most difficult thing about the course is the tide that continuously challenges the swimmer. Starting in England and trying to get to the final in France, the tide is very restricting. At this point one needs to be very strong. One is in the water during day and night. The swimmer can only take in liquid nutrition and never touch the boat nearby. If that happens one is disqualified."
Source: Hürriyet Newspaper
July 10, 2019
10.07.2019