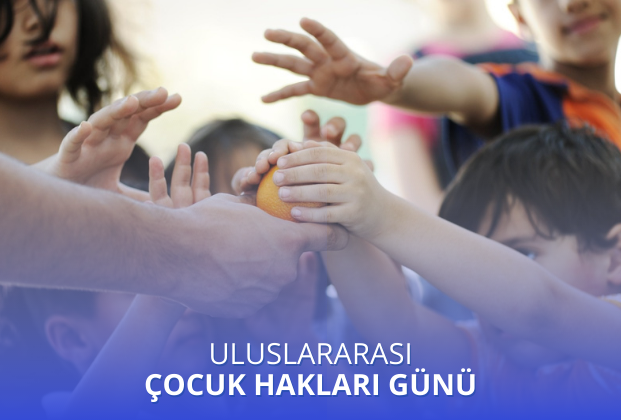 We are celebrating the 31st anniversary of the adoption of the Declaration of the Rights of the Child.
The Declaration of the Rights of the Child defines a person between the ages of 0-18 as a child. Turkey signed the declaration and made it a part of its national legislation. In fact, Turkey is among the 5 countries that accepted the first draft of the Geneva Declaration of the Rights of the Child in 1924 with the signature of Mustafa Kemal Atatürk. April 23rd (1924) is celebrated since 1929 in Turkey, by the directive of our great leader Atatürk, as the National Sovereignty and Children's Fete (Bayram).
TÜİK (Institute of Statistics) estimates Turkey's current population as 83.1 million and the number of children as 22.8 million. We must add to these numbers 5 million refugees and 1.7 million refugee children living in Turkey. This makes the population approximately 88 million and 25 million are children. We must also remember that Turkey provides aid to children in Syria.
Despite many positive developments concerning children in Turkey and internationally, severe problems and rights violations continue. Local wars, civil clashes, terrorism, use of force and impediment of obtaining basic human services due to poverty are some of the most important difficulties children face. Around 400 million children globally live under the poverty threshold. 152 million children are forced to work at dangerous and exploitative jobs.
There is a serious refugee problem in Turkey and considerable amount of resources are put aside for them. It is estimated officially that 300 billion TL are being spent on refugees.
Based on the Ministry of Family and Social Services (AÇSH) data, currently 3,1 million families receive social aid.
Institute of Statistics (TUİK) gives the number of people under the poverty threshold as 14,7 million people. The number of individuals receiving social aid overlaps with the number of families requiring help.
The TUİK poll 'Child Workforce Study 2019 (Çocuk İşgücü Araştırması)' results show that the number of working children between the ages of 5-17 totals 720, 000 individuals. 79,7 \% of these are 15-17 year olds, 15,9 \% are 12-14 and 4,4 \% are 5-11 year olds. When refugee children and seasonal agricultural worker children are added, the number of children in the workforce climbs to approximately 2 million.
Even though the laws of the county comprise the necessary provisions for children;
-they are forced to marry (experience sexual violence and abuse),
-they are forced to work in dangerous and exploitative jobs, in the streets, in small and mid-sized operations and as seasonal agricultural workers.
-pandemics and the 4x3 education system make it difficult for children to continue their education and girls in particular are forced to drop out.
-there is continuous onslaught of news about incidents of violence and stressful and argumentative political speeches.
-there are serious natural disaster risks and insufficient preparedness in housing, environment, sheltering and living spaces which came to the forefront during the recent Izmir earthquake.
-there is family poverty and broad unemployment problems.
-comprehensive rights of the child and social service policies have not been fully put in place by central and local administrations.
All of the above factors cause concern for the well-being of our children and at the same time show us that we need to work, produce and share more.
The Association for Supporting Contemporary Life, together with its 118 branches and 4 representations is continuing to work hard all around the country for our children, for our youth and for our citizens.
We have provided education support and scholarships for many children and youth with the contributions of our faithful supporters. We carry out positive discrimination for our girls with our scholarships.
To end use of child workers in the textile industry in particular, we are successfully implementing our 'from production to education project'.
We carry out developmental activities at our Children Clubs and Contemporary Life Centers.
We are broadening our coding and mentoring projects.
During the pandemic we looked into how our students were fairing and we saw that 64\% are having difficulty in receiving education. We started a broad campaign to provide tablets, computers and internet access. We have so far provided 1000 tablets/computers and we aim to increase our reach very fast.
We created the readiness for the 21st century on-line program. Our arts, sciences, culture programs and educational support initiative will start before long.
With the help of our volunteer, graduate and scholarship students we have started support programs for our youth learning foreign languages.
YES, WE LOVE OUR COUNTRY AND ALL OUR CHILDREN. WE KNOW THAT WE HAVE TO KEEP WORKING HARD, PRODUCE AND SHARE TO GIVE THEM A BRIGHT AND CONTEMPORARY COUNTRY AND WORLD.
THE ASSOCIATION FOR SUPPORTING CONTEMPORARY LIFE WILL ALWAYS CONTINUE ITS WORK TO HELP CHILDREN TO BE CONTEMPORARY CITIZENS WITH ALL THEIR RIGHTS RESPECTED, FOREMOST THE RIGHT TO LIFE, PROTECTION, EDUCATION, HEALTH AND PARTICIPATION.
20.11.2020