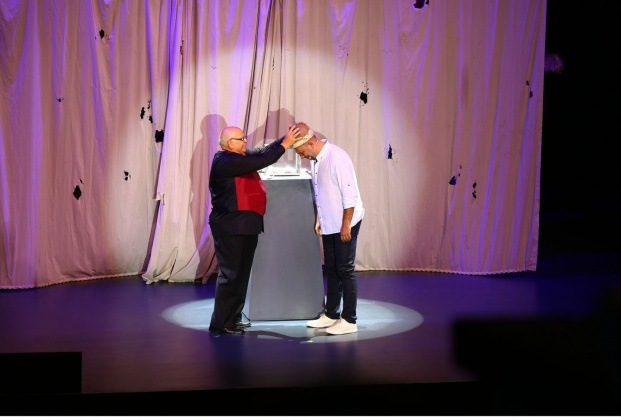 The Symbol of the Traditional Turkish Theater - "The Turban" was handed.
The symbol of comedy in Turkish theater, the "turban", was handed over from theater actor Rasim Öztekin to another actor, Şevket Çoruh with a special ceremony and the performance of the play titled Bir Baba Hamlet (A Father Hamlet). The turban worn by one of two main characters in traditional comedy became an important symbol in Turkish theater and it is this turban that has been transferred from one representative actor to another for over 100 years depicting the continuity of theater. This year the fifth of these transfer ceremonies took place at the Harbiye Cemil Topuzlu Open Air Theater. The proceeds of this special evening were donated to the Association for Supporting Contemporary Life.
ÇYDD is going to establish a "Rasim Öztekin Support Fund for Theater Students" with the proceeds to be given to students receiving an education in acting. The students will also have the opportunity to meet with Rasim Öztekin and other actors to gain experience in performance arts.
The ÇYDD President Prof. Dr. Ayşe Yüksel joined Rasim Öztekin ve Şevket Çoruh before the ceremony and presented them with thank you plaques for the support they gave to education and celebrated the actors for bringing a social responsibility perspective to the very special event which was made even more meaningful.

Link> https://www.youtube.com/watch?v=t_q5ZGedXEQ
At the transfer ceremony, Mr. Öztekin talked about the importance of this theater tradition and the meaning of the "turban" symbol. He said, "We wanted to add a bonus to this lovely evening. For the future of art, of theatre and in fact for the future of the country we need contemporary minds. Thus, I decided to donate the proceeds of the evening to the Association for Supporting Contemporary Life."
Link> https://www.youtube.com/watch?v=Da8DrvwNBc8
21.09.2020