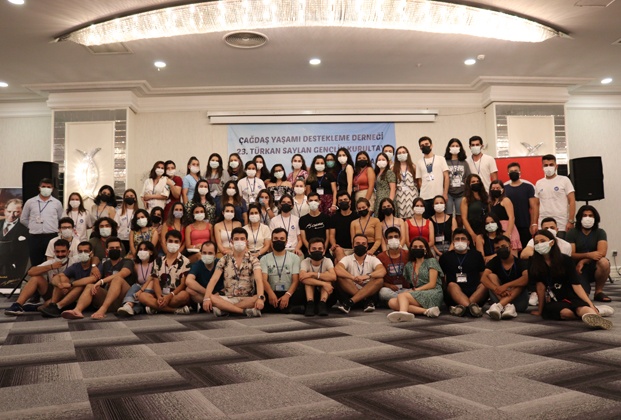 The 23rd Türkan Saylan Youth Assembly took place with great fervor!
The ÇYDD Sakarya Branch was the host of the 23rd Türkan Saylan Youth Assembly during 6-7-8 August 2021.
The opening speeches of the assembly were presented by the ÇYDD President Prof. Dr. Ayşe Yüksel, the ÇYDD Sakarya Branch President Nurten Büyükakten, the Çağdaş Youth Head Facilitator Elif Şahin and the ÇYDD Sakarya Branch Youth Facilitator Sedat Oyar. President Prof. Dr. Ayşe Yüksel indicated that "We have no concerns about trusting our future to you, our youth. Our association exists and becomes whole with our youth."
The main theme of the 23rd assembly was the UN Sustainable Development Solutions and from around the country 100 youth from 63 ÇYDD Branches took part. Bahar Özay, Turkey Coordinator of the UN Sustainable Development Solutions Network, attended the assembly on-line and indicated that, "The 17 main themes of the Sustainable Development Solutions are of critical importance for our planet. The global wealth gap is increasing and this is changing the whole social structure. Also, natural disasters are surging and jeopardizing our future while we are still not working sufficiently on curtailing climate change."
Associate Prof. Dr. Zahide Ayyıldız Onaran spoke on The Effects on Development of Economy Problems and Sustainable Economy Models. Pharmacologist Cem Kılınç spoke on A Societal Look at the Right of Health and the HPV vaccine.
From among the topics of UN Sustainable Development Solutions picked beforehand, the well prepared youth sat at their tables and for 6 hours worked and developed project and solution recommendations for the topic of their choice. On the last day of the assembly, a conclusion report session was held to discuss all the projects and it was decided to bring all projects to life. Çağdaş Youth always stands for free speech. All the attendees expressed their ideas with no apprehension.
The 23rd Türkan Saylan Youth Assembly was the first in person and widely attended meeting that took place successfully after the preparations of the last 1.5 years which were carried out only on-line due to the pandemic.
On behalf of the organizing team from Çağdaş Youth Headquarters Unit (Gençlik Merkez Birimi) that included Elif Şahin, Faruk Ertürk, Gizemnur Kablan, Özkan Coşkun, Eylül Evren, Canberk Keskin and Hayrullah Fidan, Çağdaş Youth Head Facilitator Elif Şahin noted, "I would like to thank the founder of our Republic Mustafa Kemal Atatürk, our beloved teacher Prof. Dr. Türkan Saylan, the executives and the branches of ÇYDD which is the roof over our heads that provides us support and possibilities and last but not least, all the attendees who took every precaution to be here with us. As in the past and today, We Are Here!
19.08.2021