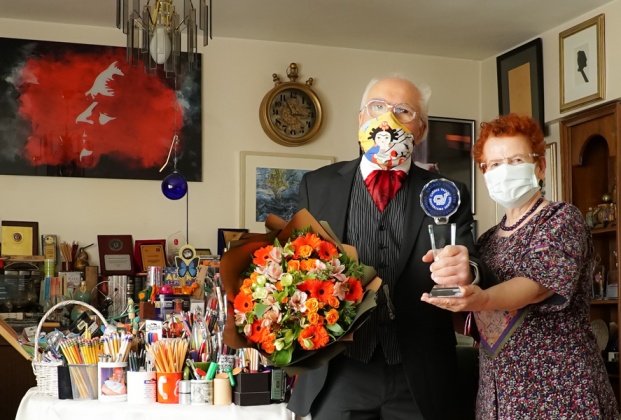 Emre Kongar is the recipient of the 15 th Contemporary Life Republic Award
Prof. Dr. Emre Kongar has been deemed worthy of receiving the 15 th Contemporary Life
Republic Award for his contributions to the development of our country. Mr. Kongar
always makes the effort to protect, to keep alive and to inform the public about the
values of the Republic. He works on matters of educational and societal development.
He has produced numerous studies on sociology, arts and the media with a focus to
bringing solutions to the socio-cultural problems of our society.
Since 2007, every year the CYDD presents the Contemporary Life Republic Awards on
the anniversary of the change brought to the Constitution as a step towards secularism.
The 2 nd Article of the Constitution indicated 'Islam is the religion of the State of Turkey'.
On April 10, 1928, the TBMM (The Grand National Assembly) abolished the sentence in
the 26 th clause of the 2 nd Article of the Constitution which stated 'the requirements of the
shari'a will be determined by the TBMM'.
The recipient of the Contemporary Life Republic Award is chosen by the votes of the
ÇYDD members, volunteers and youth from among the names the Headquarters
Executive Committee lists.
The previous recipients of the award are Muazzez İlmiye Çığ, Fazıl Say, Sabih
Kanadoğlu, Rıza Türmen, Yıldız Kenter, Genco Erkal, Gülriz Sururi, Prof. Dr. Yılmaz
Büyükerşen, Prof. Dr. Fatih Hilmioğlu, Prof. Dr. Nermin Abadan Unat, Prof. Dr. Doğan
Kuban, Prof. Dr. Ümit Kocasakal, Prof. Dr. İlber Ortaylı, Müjdat Gezen, Prof. Dr. Yücel
Aşkın, Prof. Dr. Mehmet Haberal, Prof. Dr. Mehmet Haberal, Prof. Dr. Mustafa Yurtkuran
and Prof. Dr. Ferit Bernay.
The 15 th award ceremony took place on April 10, 2021-the Day of Secularism, via Zoom
due to Covid-19 restrictions.
Mezzo-soprano Ayşe Ece Güneşşen, accompanied by pianist Mert Solmaz gave a live
concert during the online award ceremony.
Contemporary Youth Headquarters Unit (ÇGMB) Executive Committee member Eylül
Evren was the presenter of the ceremony and members of the press were invited. The
online ceremony broadcast was open to everyone.
PROGRAM
Opening speech / Prof. Dr. Ayşe Yüksel, ÇYDD President
The Day of Secularism ÇYDD Republic Awards / Adv. Sedat Durna, member of ÇYDD
GMYK
Presentation of the award, acceptance speech / Prof. Dr. Emre Kongar
Concert / Mezzo Soprano Ayşe Ece Güneşşen - Pianist Mert Solmaz
Presenter / Eylül Evren, ÇGMB Executive Committee member, Marmara University,
Faculty of Law senior student
Platforms for the live ceremony:
Facebook:
https://www.facebook.com/CagdasYasamDD
YouTube:
https://www.youtube.com/channel/UCCCeb-4xyUb7MpS0jCU0ANA
Twitter:
https://twitter.com/CagdasYasamDD
07.04.2021