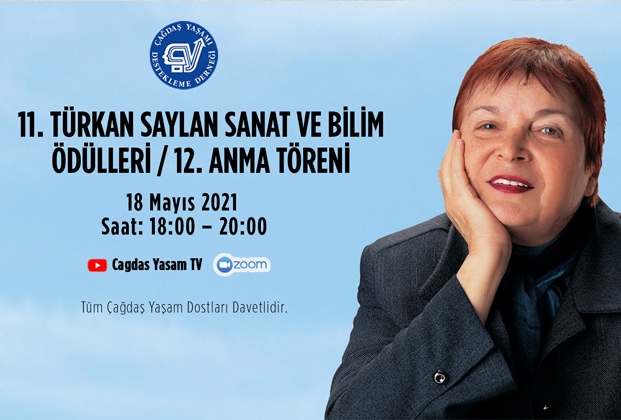 The 11 th Türkan Saylan Art and Science Awards Recipients
The Association for Supporting Contemporary Life (ÇYDD) has been presenting science and arts awards since 2010 on the anniversary of the passing of Türkan Saylan to keep alive her memory and her vision.

The Art Award, Story Category: This year, the selection committee was comprised of 5 members; President of ÇYDD Prof. Dr. Ayşe Yüksel, Head of the Selection Committee Turhan Günay, Sezer Ateş Ayvaz, Nursel Duruel, Birsen Ferahlı, Mehmet Zaman Saçlıoğlu and Ayşe Sarısayın. Two works of art were chosen for the first prize. The winners of the 11thTürkan Saylan Arts Award were Esmahan Devran İnci with her story book titled Suyun Şarkısı and Melike Şenyüksel with her book titled Retro Öyküler.

The Science Award, Medicine Category: ÇYDD and the Science Academy of Turkey work together on this award. From among the applicants to the Science Academy Young Scientists Award Program from the field of Health Sciences (Bilim Akademisi Genç Bilim İnsanları Ödül Programı-BAGEP) one applicant is chosen to receive the BAGEP award. Recipient of this award is also presented with the Türkan Saylan Science Award. The Science Academy selection committee gave the BAGEP award to Associate Prof. Dr. İlkay Sedakat İdilman this year. Dr. İdilman was then presented with the 11 th Türkan Saylan Science Award.

Due to Covid-19 restrictions, the awards were given with an on-line ceremony on Tuesday, May 18 at 18:00-20:00. The presenter of the ceremony was the Halk TV news anchor Eylül Han Tezel. The ceremony was viewed live on ÇYDD Facebook and Twitter pages and on Çağdaş Yaşam TV YouTube channel.
ÇYDD President Prof. Dr. Ayşe Yüksel opened the ceremony by commemorating our unforgettable president Prof. Dr. Türkan Saylan on the 12 th anniversary of her passing. Dr. Onur Karayal who knew Prof. Saylan from when she was a student at the Çapa Faculty of Medicine and ÇYDD Zekeriyaköy Branch Founding President Nihal Ovacık who was a close acquaintance of her talked about her and her ideals. ÇYDD Youth Facilitator Elif Şahin read a letter from the Youth to Prof. Saylan. Two of the ÇYD Foundation (TÇYDV) scholarship students, mezzo-soprano Ayşe Ece Güneşşen and pianist Mert Solmaz gave a concert.

Program:
Remembering Türkan Saylan!
Opening Statement: Prof.Dr.Ayşe Yüksel
Awards Ceremony
Türkan Saylan Memories
Dr. Onur Karayal TPF Executive Committee Member
Nihal Ovacık former President of Zekeriyaköy Branch of ÇYDD
Letter by the Youth Addressed to Türkan Saylan by Elif Şahin ÇGMB Facilitator
Concert Mezzo-soprano Ayşe Ece Güneşşen and pianist Mert Solmaz
Eylül Han Tezel Presenter
Date: May 18, 2021 – Tuesday at: 18:00 – 20:00
Broadcast: ÇYDD and Çağdaş Yaşam TV Youtube Chanel Joint Broadcast
16.05.2021