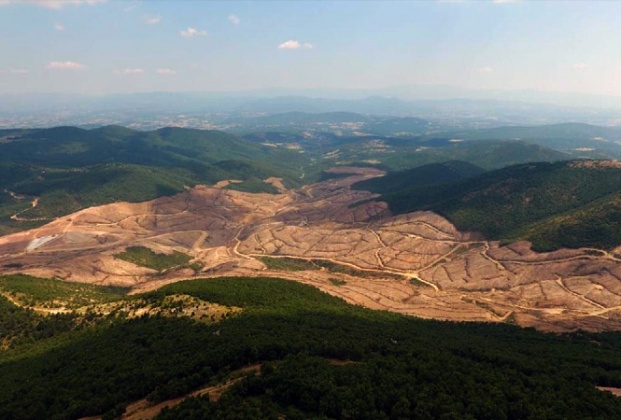 The most important inheritance we can leave to our children and to the future is a livable environment.
We, the Association for Supporting Contemporary Life (ÇYDD), hereby announce that we call all authorities to action on stopping the crime against nature being committed at the Kaz Mountains and that we will be watching the developments closely.
The mining area being cleared up on the Kaz Mountains despite warnings from millions of people and all the demonstrations being held, is only 30 km away from Çanakkale. This area is also within the basin of the Atikhisar Dam which is the sole water supply for 180,000 people. The biological diversity of the area is very valuable. More than 800 different plants grow here. 37 of these plants are endemic to Turkey and 9 of them are endemic to the Kaz Mountains. The area is one of the richest of our country with birds and mammals. Also, the underground water supplies of Çanakkale and Balıkesir that come from the Kaz Mountains will be impacted by the destruction. This mythological area has been referred to as 'Mount Ida of a Thousand Water Spring's in antiquity.
With their geological characteristics, their flora and fauna the Kaz Mountains are a very important natural region.
These mountains were always a cultural center and they were always inhabited. Nearby there are three important cities of antiquity: Adramyttion which was founded before the wars of Troy and which is only 6 km from Edremit today, Antadros situated on the Kaletaşı Hill on the northern side of the Edremit Bay and Assos (Behramkale) within the borders of the Çanakkale province.
On these lands that are of utmost ecological and historical importance for our country and for the world, as of today 200,000 trees have been felled and are continuing to be gotten rid of by the company wishing to establish a gold mine here. In addition to this crime around the Atikhisar Dam to which there is no alternative source of water, the world's most potent poison on plant, animal and human life, cyanide, is going to be spread on the basin. This will be a decree of death for our air, land and water.
Nature belongs to all humanity and the natural cycle of life cannot be changed or held subject to intervention for material gain. Warding off the destruction of the environment we wish to leave to our descendants will continue to be ÇYDD's duty and responsibility.
The surface of the Kaz Mountains is more priceless than the gold below.
The Headquarters and all the branches of the Association for Supporting Contemporary Life (ÇYDD)
05.08.2019