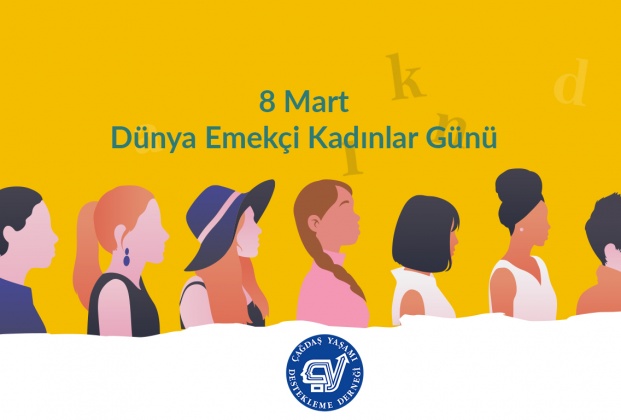 On March 8, the International Women's Day, we are proud to be walking hand in hand with all our women and supporting them on their teaching and learning journey towards a contemporary future.
Woman;
Only judged by what she wears, how she looks…
Told not to get involved in things she can't accomplish; oppressed and silenced with old fashioned expressions…
Always hindered in the world of work; made to work for less pay and forced to exert herself in order to be successful…
Spends the most effort at home; still not treated as an equal by her family or her husband…
Her right to education taken from her, not allowed to work, not allowed to laugh, excluded, exploited and discriminated against…
Exposed to all kinds of violence; abused, beaten, raped and murdered….
In this world the person who suffers the most injustice; always left alone in her struggles to find justice…
Since its founding until today, the Association for Supporting Contemporary Life (ÇYDD) has stood by the side of women who are producing, thinking and bringing change.
We have been opposing violence against women with our projects for women with the aim to reach "a contemporary society by providing a contemporary education" since 1989. Our first priority is to provide education for female students in order to enable them to rise above the economic imbalance they find themselves in with their own means and to make their own decisions in their lives.
We started with 17 female students on our journey towards "the contemporary" and today we are very proud and happy to be able to say that we have since supported 140,411 female students whose names have been heard around the world, who have realised their dreams and most importantly, who now stand on their own two feet.
All our 118 branches are working to bring equal opportunity to our girls who are the light of the future. We aspire to bring gender equality within the society through education. We will not allow the values generated by the hard work and sacrifice of women to be wiped out, to be ignored or to be undervalued!
ÇYDD will continue to work tirelessly to empower and liberate women; our association will stand against inequality, violence and exploitation.
In 1908, in the USA, 138 women were killed during a strike asking to receive equal working conditions and equal pay. We solemnly remember those 138 working women and all women killed until today.
Happy International Women's Day!
08.03.2021