Folklore Summer Activities with Children.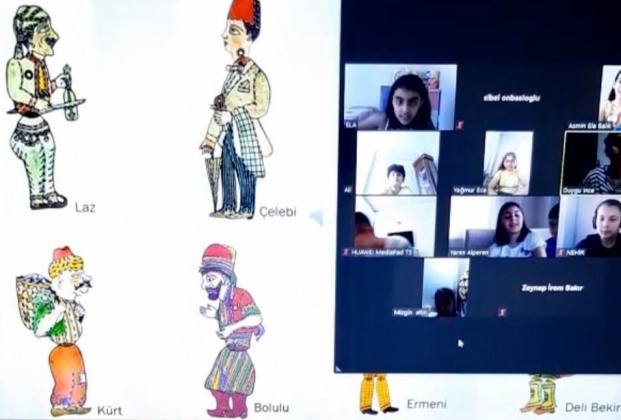 Last summer 'Folklore Summer Activities with Children' were carried out with the participation of the children in person.
This year the activities needed to be done virtually. The Association for Supporting Contemporary Life and Yaren Cooperative worked together to implement the project online.
The activities started on July 13, 2020 and they were implemented in two sessions each lasting four weeks. They were completed on September 6, 2020. The activities were planned by Yaren Cooperative and they were led by students interested in folklore from seven different universities. From many branches of ÇYDD in different regions of the country, 224 students between the ages 9-13 joined the activities. Students joining from separate regions were mixed in the online groups to give them a chance to become friends with each other.
The children that joined the activities learned about folk dances and traditional costumes. They got to know folk music and different instruments. They discovered cultural diversity. Besides learning about folklore, the students had fun learning facts about ecology, nature, coding and agriculture.
About Yaren:
Eight 'yaren' students who graduated from ODTÜ (Middle Eastern Technical University) founded Yaren. Yaren means 'friend' in Turkish. The cooperative was founded by these eight friends who had separately worked on folklore projects for years. They all believe that any investment in children will affect their families and that the families in turn will spread the positive influence to the whole society.
The full legal name of Yaren Cooperative is SS Yaren Fikri Mülkiyet Hakları & Proje Danışmanlığı Kooperatifi and it is a non-profit establishment founded to develop solutions to societal problems.
The goal of the Yaren Cooperative is to use folklore and its traditions as positive messages to connect to the future and with experience and social networking make a difference in the education and development of the society. Yaren has chosen to explain unity and togetherness not by abstract concepts but in a concrete way using themes from folklore, from folk music and from folk dances.
Their aim is to harness the traditional values of the society and based on them, raise children who respect themselves and those around them, children who are honest, conscientious, compassionate and loving.
www.yaren.coop
26.09.2020