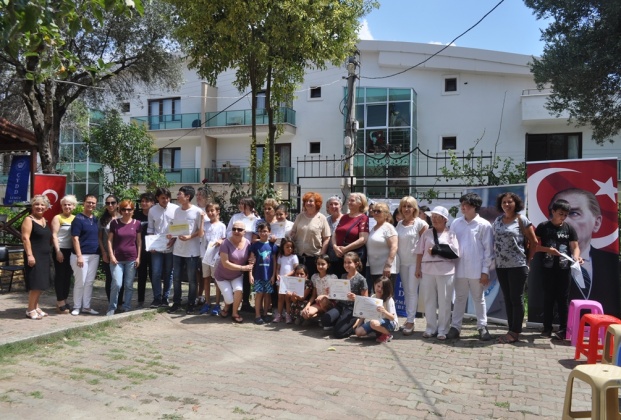 ÇYDD KOCAELİ BRANCH AND AIESEC KOCAELİ 'ENGLISH SUMMER ACTIVITIES' HAVE BEEN COMPLETED
This summer the 4th of the 'English Summer Activities' held by the ÇYDD Kocaeli Branch and (the international association of students) AIESEC Kocaeli took place between July 1-August 2, 2019 at the ÇYDD Tınaztepe Foundation's Education Center.
25 children attending the Education Center worked on their English by doing theater-music-dance and receiving applied language education with volunteering students who came from different countries of the world.
The children learned about different cultures and had the opportunity to introduce Turkish ways to their foreign instructors. They worked at Ceramic Studio with Suna Küçükköse, Marbling Studio with Bahtışen Keskin and on Folk Dances and Pita Day with Merve Akkaya.
The children completed a 5 week program with their instructors. For the summer activities of this year, 6 of the instructors were with AIESEC; Kevin and Flora from China, Rtia, Hawla and Zahra from Morocco, and the project coordinator Muhammet Durmuşcan. Berfin Köse, Levent Tukuş and Ege Selek were ÇYDD volunteers.
End of the summer activities ceremony was held in the garden of the Education Center. ÇYDD Kocaeli Branch President Meral Dönmez congratulated the participants and presented the children with participation certificates and the instructors with thank you notes. Dönmez thanked the Education Center Executive Committee members Birsen Talu, Dilara Yaltrak, Nursen Öztürk Şevil Şen, Ayşe Şaffak, supporting members and parents.
The program continued with the theater, dance and folk dance shows by the children. Saying goodbye was not easy for the trainers and their students, but thoughts of the good times and the unforgettable memories remain with them.
Folk Dance and Music (violin, guitar, saz, flute, rhythm, percussion and chorus) Studios are continuing at ÇYDD Tınaztepe Foundation's Education Center for the summer. The participants are getting ready for the 29th of October Republic Concert. Everybody in Kocaeli will be invited.
19.08.2019