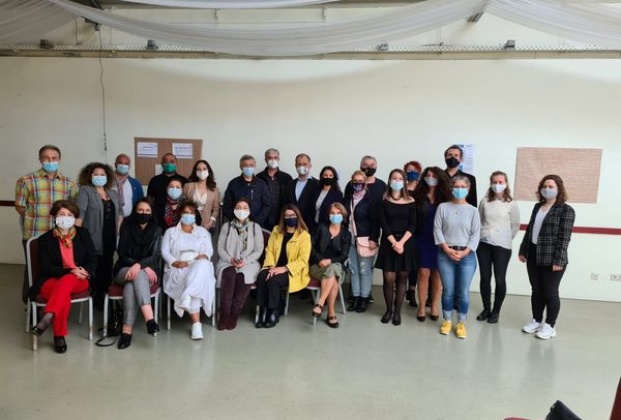 ÇYDD Baden-Württemberg is focusing on the young ones and with projects and activities.
ÇYDD Baden-Württemberg is focusing on the young ones and with projects and activities that take Ataturk's principles and reforms as its framework, the branch is going to lend a helping hand with the education and formation of the children and youth of Turkish origin in Europe.
Some of the projects that were recently introduced are Contemporary Stage Stuttgart, Contemporary Youth, Pre-school Early Music Education, 360˚ Contemporary Panorama, Exploration is Our Mission and Forced Marriages-Honor Killings. There will also be the YouTube programs Contemporary Conversation and Contemporary Sharing.
On December 13, 2020 which would have been the 85th birthday of Turkan Saylan, a remembrance ceremony will be held.
Contemporary Stage Stuttgart: An original play will be prepared with excerpts from international and Turkish musicals. It will be a collage of the various works and the central theme will explore the relationship between women and men. The musical parts will be connected with short sketches. Orhun Şemin will direct acting and Stuttgart State Conservatory instructor Elif Şahin will direct the music. State Conservatory instructor Prof. Cornelis Witthoeft will accompany on the piano.
Contemporary Youth: This project will provide support for the personal improvement of university students and bring solutions to educational problems they may face. Kardelen Dağlı is in charge of the project.
Pre-school Early Music Education: The basis of this project is the 'Orff Method' developed by the renowned composer, conductor and educator Carl Orff. The Orff Method has been adapted to Turkish and put into use at Ameisenbergschule School in Stuttgart. The method will be applied in other schools once the pandemic is over. Derya Bektaş manages the project.
360˚ Contemporary Panorama: With this project the goal is to strengthen understanding between German and Turkish communities. Vice President Nilgün Altınkurt explained that they will invite experts on the subject to give conferences and hold panels, and that they will prepare exhibitions.
Exploration is Our Mission: Executive Committee member Mustafa Akdenizli will plan numerous extracurricular social, cultural and sports activities with children. Field trips and museum outings will also be a part of these activities.
Forced Marriages-Honor Killings: Another project is to work together with one of the strong defenders of women's rights in Germany-'Terre des Femme', with Ministries of women's issues and family and with NGOs to prevent honor killings and forced marriages. The project is going to be headed by Işın Toymaz and it is going to underline the fact that thousands of girls in Germany are being forced into unwanted marriages or they are threatened to do so. There is a need to develop a public opinion on this acute problem and let people realise that the information at hand comes only from those incidents that have been reported and that the available information is only the tip of the iceberg.
YouTube Programs
Contemporary Conversation: With this project we are bringing together Turkish-Germans with prominent people of Turkish origin as role models, people who are politicians, artists, sports people, businesspeople, educators or scientists, etc. The program is presented mainly in Turkish by a team of seven presenters and technicians.
Contemporary Sharing: This project will bring to audiences the masterworks of people who produce and make a difference with their music, painting, literature, crafts, sports and stories.
08.10.2020