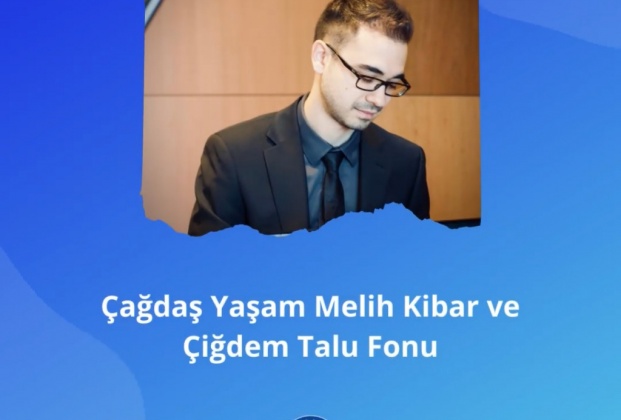 Introducing Cem Oslu, a scholarship holder of the Melih Kibar and Çiğdem Talu Foundation and the Çoban Yıldızı Project, in his own words.
My name is Cem Oslu. I am 28 years old. I am a composer, pianist and teacher. Nine years ago, when I was a piano student at the Vienna Conservatory, I applied for a scholarship to the Beklee College of Music which gives the most comprehensive education in music technology. I was accepted with a 70 \% scholarship. It would not have been possible for my family to support me for more than one year while I studied in Boston which is one of the most expensive cities in the world. I was very determined to find a solution so I started attending school. I worked at three part time jobs. With help from my family and some art loving people, I completed my first year. Just as it seemed I would not be able to continue after the 3rd term my mother contacted TÇYDV (Turkiye cagdas yasami destekleme vakfi-supporting contemporary life foundation of Turkey). The foundation informed us that I was deemed suitable to receive the Çoban Yıldızı scholarship. I was able to continue and by taking subject loads from higher classes I completed my education as early as possible. I finished the two major-five year program (film music and electronic music) in two years.
A composition I wrote for 3 pianos during my education at Berklee received the First Prize for the State of Massachusetts and Eastern USA and the Second Prize among all states in an MTNA (Music Teachers National Association) competition. I took part in the Rising Stars of Mersin concert at the 12th Mersin International Music Festival. I was the music director for Boston's Glouchester folk musical.
After school I made my home in Los Angeles. During my first year there I composed music for the Alien's Sister and The Thirty-Nine Days short films and Interior Night full feature. I was piano teacher and head of the piano section at the Academy of Music for the Blind. I worked on musicals as the music director and pianist.

In 2017 I entered the First Kadıköy Süreyya Opera Composition Competition. My Chamber Music Suite won First Prize and Listener Special Prize. This piece was released by Lila Music in the album 4 Composers 4 Suites. The following year I received the First Prize for my four clarinets work in the composition contest at the Mersin International Music Festival.
In 2019, with my piano concerto titled Yükseliş, I won 2nd prize at the 10th F. Eczacıbaşı Composition Contest organized by İKSEV (İzmir Kültür Sanat ve Eğitim Vakfı-Izmir Culture Art and Education Foundation). This work was presented at the Izmir International Music Festival. Cem Babacan was the soloist and Cem Okan was the director.
In 2019, having heard my piano concerto, Selva Erdener asked me to do a türkü-folk song arrangement for her. I made an arrangement of the song Bitlis'te Beş Minare for voice, piano and chorus and we recorded it with the Boğaziçi Gençlik Korosu- Boğaziçi Youth Chorus. This piece was released by Ada Music last year.
With the Lincoln Center Stage program, in 2019 and 2020 I gave more than 300 solo piano and chamber music concerts on passenger ships. In 2020, Gedik Sanat commission together with the Anadolu Nefesli Beşlisi group requested a piece and I composed and dedicated Yolculuk to them. In the month of October the work was performed by the Gedik Philharmonic Orchestra and the Anadolu Nefesli Beşlisi at the Cemal Reşit Rey (CRR) Concert Hall. In 2021 I composed a work depicting 5 different points of the world as requested by the USA Air Force. This piece that I wrote for four clarinets will be recorded in the coming month.
The Los Angeles Kleidoscope Chamber Orchestra incorporated my Chamber Music Suit in their program for 2021. They will perform my suit this year. I am continuing to teach piano in Los Angeles. One of my wishes for the future is to compose musical stage work. I am considering composing pieces in the form of story, musical and opera and I will work on having them performed in Turkey.
11.05.2021